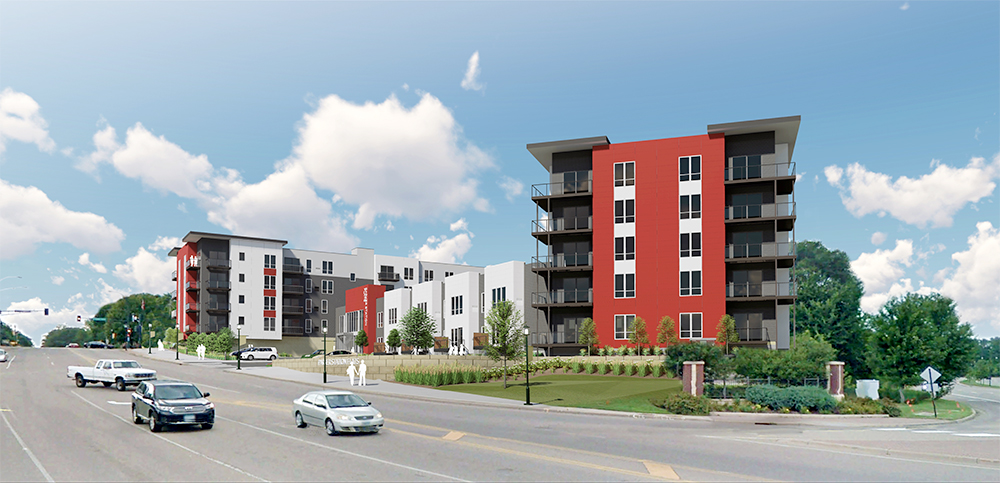 Inland Development Partners recently started construction at Parker Station Flats, a 198-unit multi-family apartment building at 3600 France Avenue North in Robbinsdale, named after a former railway station at the same location.
Parker Station Flats is a Class A apartment complex that will feature luxury units with high-end kitchens and premium finishes, a fitness center, yoga room, an outdoor pool and fire pit, and underground parking – all within walking distance to great restaurants and retail in Robbinsdale.
IDP's development of Parker Station Flats follows the redevelopment of the Robbinsdale Terrace Mall site into a new Hy-Vee store and a repositioned medical office building for North Memorial.
Part of the project included responsibly cleaning up soil contamination on the existing 2.55-acre site. IDP secured grants from Hennepin County, the Metropolitan Council and the Department of Economic Development, specifically to mitigate the cost.
The Parker Station Flats development team includes UrbanWorks Architecture, Weis Builders as General Contractor, Westwood Professional Services, and finance, legal and management expertise by Dougherty Mortgage, Fredrickson & Byron and StuartCo, respectively.
Parker Station Flats will welcome new residents by the spring of 2021.